A Keto Breakfast Treat – Ketohana Ketogenic Granola!
So for those of you who followed my progress on my 6 week Keto experiment you may be wondering what happened after! I'm still doing it, and am always on the lookout for new recipe's and products.
One of the tricky bits of following a Ketogenic Diet is trying to keep meals interesting. It's easy to do the usual Bacon & Eggs every day but it get's boring quickly. The one thing I miss more than anything on Keto is Breakfast Cereal. In particular oats & granola!
Prior to Keto when I was carb dependant my treat every now and then was to buy myself some Jordans Tropical Granola. It was tasty but choc a bloc full of sugar! Since starting Keto I've been on the hunt for a Low Carb Ketogenic Diet friendly replacement.
The first solution I came across was a recipe to make your own Ketogenic Granola. This 'Really Good Low Carb Granola' recipe from Low Carb Maven, is a particularly good one. It does satisfy the cereal craving somewhat, but I wanted to find something special.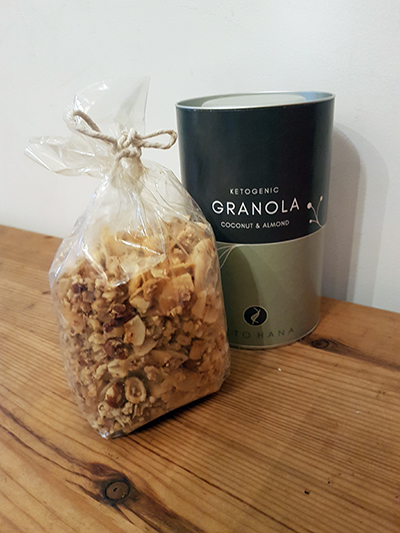 After a few google searches and some blog browsing, I finally found what could be the answer; Keto Hana's Coconut & Almond Granola. The first two sentences on the product page suckered me in: ' Your mornings can be bliss. Near zero carbs, sweet, cruncy, granola'.
So I had to try some!
The Personal Touch
It arrived at lightning speed in just two days. I ripped open the packaging and found a lovely handwritten note with a thank you from Keto Hana. It's these small touches that make the difference for me. I would much rather buy from a local person or small business who really appreciates its customers than from a big supermarket who couldn't care less. Keto Hana is also based in London, another tick in the box. It's great to finally find a Keto friendly product in the UK and not the US!
Macro's
I browsed the tin first to check the Macronutrient breakdown and the Ingredients. It's a common scenario to come across what appears to be a Healthy Product only to find it's full of preservatives, E numbers, and often hidden sugars.
Well, that's not the case with Keto Hana's Coconut & Almond Granola. Here's the Macro breakdown per 30g Serving (Must admit though, my serving is more like 50g, this stuff is seriously addictive!):
Protein (g): 4.1
Fat (g): 19.5
Carbs (g): 6.3 (Net 3.6!)
*So, minus the Fibre and Sugar Alcohols, a single serving contains just 3.6 grams of Carbohydrates. Perfect!!
Ingredients
No Surprises here either, basically a combination of Nuts and Natural Sweeteners. Bonus :D: 
Roasted Hazelnuts
Flaked Coconut
Roasted Almonds
Erythritol & Steviol Glycosides (100% Natural Sweeteners)
Butter
I can't complain about a single ingredient in that list. All perfectly natural, not a carb in sight and chock full of fats. This should make a perfect ketogenic breakfast.
Packaging
The packaging just screams premium product. A clean branded tin containing a hand-tied clear bag of delicious looking Granola.
I just could not wait to get this stuff out of the tin to taste it.
Taste
Obviously, the most important bit is the taste! My plan initially was to have a small taster at first and then have a bowl of it for brekkie in the morning. It was about 9 pm in the night when I got round to opening it, I don't like eating a lot late in the evening.
However, after eating a few small bits, that plan went out the window. Next minute I'm sat in front of the TV eating a huge bowl of the stuff. This stuff is delicious, I kid you not. I would go as far as to say it's better than the Jordans Granola that I used to eat (prior to Keto Diet).
It was crunchy and full of texture, something that is always difficult to incorporate into any Ketogenic Meal. It was sweet but not too sweet – again this is a difficult one to get right. Erythritol can leave what can only be described as a cooling effect on the palate, but that was not the case here. Keto Hana has perfectly blended Erythritol with Stevia to get the balance just right.
The nuts and butter have all been roasted perfectly to result in an amazing infusion of taste.
Cost
Keto Hana's Coconut & Almond Ketogenic Granola costs £6.99. This is a Premium Price but then it is a Premium product.
When you think about firstly the cost of the ingredients. All those nuts are expensive. A bag of almonds in Tesco will often set you back at least £2.50!  Also, don't forget the labour. A lot of love and hard work has gone into it. Keto Hana makes each batch of granola by hand in her house in London!
When you factor in the health benefits that you get from swapping out a sugar-laden granola for something like this, it's most definitely worth the price.
For me personally, it's not something I could afford to buy on a weekly basis, however, it will be something I will be buying every now and then as a treat.
How To Get Yours
Why not give Keto Hana a try? You can order Keto Hana's Coconut & Almond Granola directly from her site, it's really easy just go to the product page and Add To Cart. If you enjoy it, let her know. I did and had a personal reply from her, you won't get that from Tesco's!
P.S I am in no way affiliated with Keto Hana and receive no commision or benefit as a result of this article, I just wanted to let my low carb friends know what a great product this really is!