2nd Place At Severn Bridge 10k Race Fueled By Fat!
Last week I was offered a place at the Severn Bridge 10k race on the weekend. A friend at work had to drop out due to injury. This was perfect timing for me as I was hoping to enter a 10k race before the Cardiff Half Marathon came along.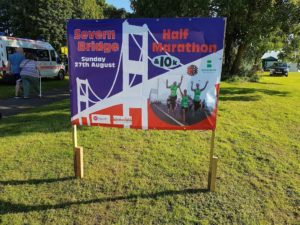 Why enter a 10k race while training for a half marathon? It's always a good idea to plan a race somewhere in the middle of your training plan as a gauge to see where you are at in your training and to test out race day nutrition plans.
So on Tuesday last week, I signed myself up and was raring to go.
Target Pace – 4:10 – 4:15 per km
One thing that's been gnawing at me for the last few weeks is the fact that I will need to run an avg pace of 4:10 per km if I want to do a Sub 90 half. That is quite scary to me since I rarely hit that pace in training, plus I've been on a Keto Diet for months thus limiting my carbs.
Very low carbs can have a negative effect on high-intensity exercise if the body is not completely fat adapted.
So I thought I would use this race as a tester to see if I can maintain an avg pace of 4:10 per km for 10k.
The good thing was, my mate from work was also running the same race. We usually run at similar paces, in fact, he's usually a bit quicker than me. If I stick to him I thought, I might have a chance of meeting my goal and maybe hitting a PB. My fastest 10k up to now being 42:09 (set during last years Cardiff Half Marathon!!).
Pre-Race Carbs or No Carbs?!
I had a big dilemma before this race. I've been following a very low carbohydrate ketogenic diet for the last 2 months. That basically means my diet consists of mostly fat, moderate protein and very low carbohydrates (usually just 20-30g max per day).
I initially did this as an experiment for 6 weeks but have reaped so many benefits during that 6 weeks I've decided to carry on.
There are plenty of positives to Keto (check out the blog if you want to find out more) which include constant and consistent levels of energy for endurance based exercise.
However, during high-intensity exercise, or during a speed running session for example; a lack of carbs can impact performance. That is until the body is fully Keto adapted, which can take over a year for some people.
So you can see my dilemma.
Given that I've been eating next to no carbs for the last few months, and that it is recommended to consume carbs before high-intensity exercise – what should I eat before the race?
Well, in the end, I decided to consume a single dextrose gel 30 mins before the race started. Yeah yeah, I know my title is a bit misleading. Strictly speaking, I wasn't purely fueled by fat. However, 30g is only a small amount.
My breakfast was a nut based cereal (5g carbs) with almond milk, plus a coffee with MCT oil. Barely a carb in sight! So It is possible I would still be in Ketosis for the race since my carb count had been low all week too.
M48 Fun
On the way to the race I kept seeing big warning signs 'M48/SEVERN BRIDGE CLOSED — USE THE M4', and literally saw about 2 vehicles on the road, both of which were road maintenance trucks. So I did think for a minute, shit… have I taken the wrong road?!
This was the Severn Bridge 10k Race though after all so I expected it to be shut. Couldn't help myself panicking slightly thinking I was gonna drive for miles along this road and then end up at a big gate in front of the bridge and police telling me to turn back ha.
Luckily for me though, I took exit 2 off the M48 and immediately started seeing other cars and people walking around. Then I could relax a bit!
I was directed to the car park …Actually, I was told to park on the side of the road on double yellows! I just hoped Mr traffic warden was told to take the day off. The bonus was though, I was literally a 2 min walk from the race village. My mate Chris had to park all the way up the other end of the road another 10 mins away. Was this to be my lucky day?
The Race Village
I noticed Chris walking along the road literally just as I pulled up so we walked up to the race village. As soon as we got to the race village there were runners everywhere, some with white number bibs for the half marathon and some with red bibs for the 10k. All going about their pre-race rituals – double checking shoe laces, going to the toilet for the 10th time (that includes me), jumping up and down on the spot etc.
With 30 mins to go, I necked my glucose gel and immediately regretted not bringing cash for an espresso. Caffeine always gives me an extra boost at races (check out this excellent Runners World post for a list of the benefits of caffeine for running).
I go to collect my race number and breathe a sigh of relief when they find it under my name. I couldn't help being paranoid they hadn't processed the transfer so I'd have to be Steve for the day!
The Start
We got called by the MC to make our way towards the start about 15 mins before the race is due to begin. To get to the start we had to walk along the slip road then onto the middle of the M4, which felt weird, very weird! I've driven down this stretch of road many times, it just felt a bit wrong walking on it – in fact, we'd soon be running on it!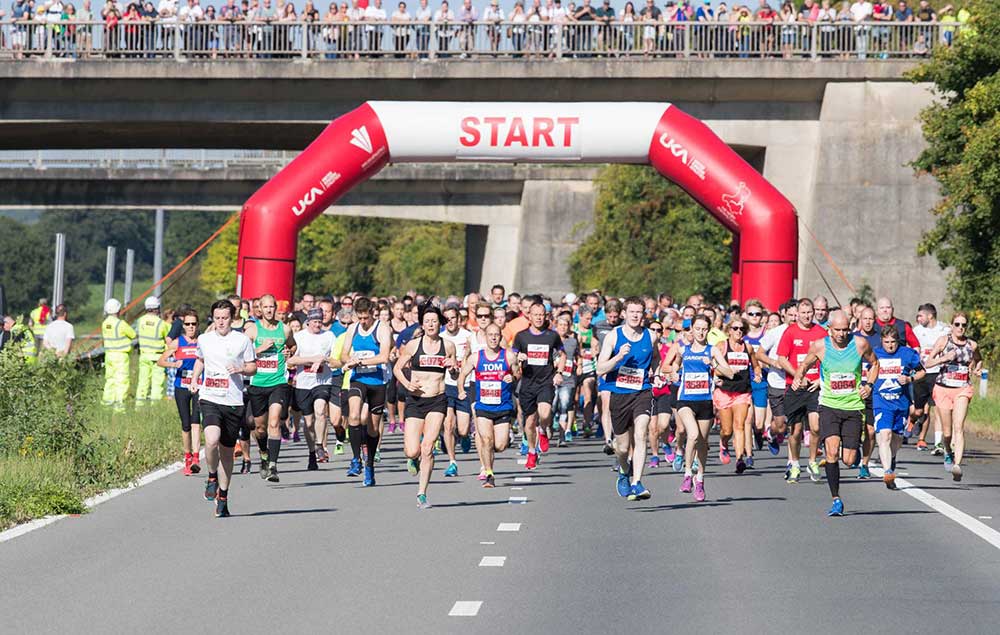 We attempted to warm up but were only given a tiny 100m stretch of the m4 to do so. We were pretty warm anyway as the sun was out today. It was definitely going to be a hot one!
We did a few lengths then made our way through the crowd and quite easily ended up right at the front! I've never been literally right at the front from the beginning of the race, this was a novelty.
Chris and I set our Garmins – the aim was to get into a 4:15 pace asap. I'd planned to use this race as a tester for the Cardiff Half. I wanted to find out my chances of maintaining a 4:10-4:15 min per km pace for the Cardiff Half in October. This race would be an ideal test even if it is half the distance – at least it will give me an idea of where I'm at in my training, or so I hoped!
Climbing The Bridge
We set off along the M4 heading towards the bridge with loads of space to run. Again, this was a novelty! I'm so used to being squashed in amongst hundreds of people for at least the first 500m to 1km of a race. It was great! We held a 4:16 /km pace along the flat for the first km. This was a good start.
As we climbed the bridge the pace inevitably began to slow. I wasn't bothered by this though as I knew there was a downhill stretch to follow when we got to the top. We hoped to make up any lost time on the downhill stretch.
500 Metres Ahead Of The Pack!
Despite the slower pace during the climb, we were surprised to be told by the marshal on the bike that we were 200m ahead of the main pack. By the time we reached the top of the hill we were over 500m ahead of the main pack! All we were thinking was 'wow we could be in PB territory here!'. We also calculated that we were in about 8th position!
"They'll all catch us up soon though!" Or so I thought…
We were also surprised that we could still see the race leaders. As we reached the top of the bridge the leaders were about 300m away at this point.
It was just amazing running up the bridge and running along the motorway. As we climbed the bridge the views over the Severn were spectacular. I usually only see these views at speed through the windows of my car so it was nice to be able to appreciate them!
Bomb It Downhill!
I was feeling good when we reached the top so decided to push it downhill in an attempt to make back some of the time lost on the climb. I looked at my watch and for most of the way it was showing a 4:05 /km split! Nice.
Looking back at Strava I had a really good stretch here with 4:13, 4:03 and 4:12 km splits.
About halfway down the bridge, Chris decided to drop back a bit. I didn't know at this point and didn't find out until after the race that he was beginning to suffer heat exhaustion! This was unfortunate for Chris who is a fantastic runner and would have usually put me through my paces in top form. We have to come back next year Chris!
There was a sharp turn at the bottom of the bridge at approx 4km with another flat bit before ascending the bridge again.
Hot Hot Hot!
As we turned the sharp corner I remember thinking, It's getting seriously hot. The sun was beaming down on us and there was literally no cover whatsoever!
As we climbed the bridge again I started to struggle a bit in the heat. It was unbearable – I was a sweating mess and more than appreciated the water stop which I promptly chucked all over my head!
With about 5k to go when it started feeling uncomfortable, I started thinking about previous training sessions and races. Specifically thinking about times where I'd felt much worse than I did at this point and still managed a good result. I then think to myself 'you've been here before, it hurts but it's worth it in the end'.
I also started picking people off. I'd pick a person in front of me and overtake them, then repeat. This is a great tactic to keep the mind occupied and to stop thinking about the pain and discomfort!
Last 3k Push
I decided that with 3k to go on the downhill stretch I'd push it to the max, it's only 2 miles right! I thought back again to a previous training session, 1-mile sprint intervals on my lunch hours and imagined I was doing the same session. Again Strava shows I managed a 4:04, 4:08 and 4:12 min/km pace in the last 3 kilometres.
Now at this point, my position in the race didn't really enter my head. My main goal now became to get as quick a time as possible. I had literally no idea that I was already in the top 3! The half marathoners were running alongside me so it was very difficult to figure out where I was in the race.
At running races, I usually only compete against myself. Simply because my pace is usually not quick enough to get anywhere near the pace needed to reach the podium.
The Final Hill!
With about 600 m to the finish, there was a nice steep downhill stretch.  I practically sprinted down the hill assuming a nice flat stretch would follow it to the finish. Oh, how wrong was I!
As we got to the bottom of the downhill and turned the corner, there was a lovely steep hill which just never seemed to end. It was about 100m long I'd say but felt like a mile! Ha, this was a proper sting in the tail.
I heard some expletives from the bloke behind me when he also turned the corner to face the hill ha.
So anyway, I pushed on – tried to maintain effort up the hill. Slowed the pace a little to save some energy for some sort of sprint finish.
I did manage to find some energy at the end to do what felt like a sprint finish at the time. In reality, it probably looked like a slow painful jog!
I stopped my Garmin at the finish line at 42:25 (42:16 chip time) and immediately dropped to the floor, completely exhausted. When the marshal urged me to get up and keep moving (seems to be a common theme for me at the end of races to get a bollocking from marshals), I dragged myself to my feet. I collected my medal, t-shirt and swallowed an entire bottle of water in about 10 seconds flat.
Top 3 Finish? Nah not me!
So as I moved out of the finish area, two other runners came up to me and said well done.  Money was mentioned along with a mention of a top 3 finish. I assumed they were talking to or about someone else, it couldn't be me?! They were also looking at my vest probably thinking, what are who are OBSTAFIT?
Chris came over the line and looked in a bad way. He was stumbling from side to side, barely managing to walk. It took him a good 20 minutes to recover from what we now know was heat exhaustion. That should give an idea as to how hot it was out there!
Money!
So while trying to help Chris recover I heard my name mentioned by the MC. We're still waiting for Gareth Partridge to come and collect his prize. So I had won something, those guys were talking about me!
"We're still waiting for Gareth Partridge to come and collect his prize."
So I had won something! Those blokes were talking about me!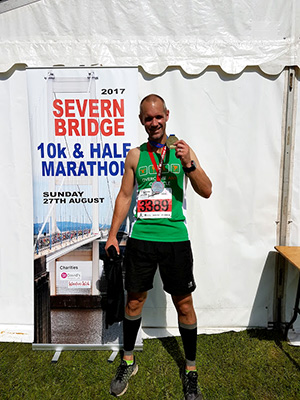 I knew there was a top 3 payout so guessed I must have been in 3rd place which was a massive shock in itself. Even more of a shock was when I went to collect my prize which was £40 cash and a special medal for 2nd place. 2nd place! WTF! How the hell did I manage that?!
I was Elated! I remember on the drive home I just felt like I was on a cloud. Endorphins were racing through my body, I felt on such a high it was amazing.
Future Plans
It is moments like that that make me sign up for race after race after race. These moments also keep my pushing through when a race becomes uncomfortable – I just think about that feeling and I somehow manage to find some extra energy and push through right until the end.
I'm now feeling confident for the Cardiff Half Marathon. I managed an avg pace of 4:14 /km throughout the 10k race which isn't bad considering the hilly hot course. However, for the half, I'm planning to maintain a 4:10 pace. Hmm, I've got a bit of work to do.
OBSTAFIT Runners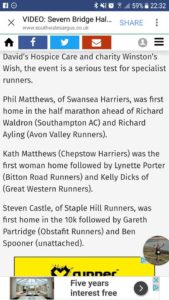 This was a fantastic and well-organised race that couldn't have gone better. I'm over the moon with the 2nd place finish – especially given that 'OBSTAFIT Runners' got a mention in the Argus and a few other places online. I'm just glad I put it down on my application form!
I will most definitely be signing up again next year, and you've probably guessed what my goal is for next year? FOR THE WIN!
FOR THE WIN!