Slightly later than planned but better late than never!
I must firstly thank Gareth at Obstafit for asking me to write this post. I must also thank Gareth and Mikey for all their coaching and training.  I credit them  completely for teaching me how to climb over walls properly and get up ropes!
Thanks also goes to Sarah from Acomplished Exile Photography for being our personal paparazzi.
I will be sounding like a bit of a fan boy with this post!
On the 5th May 2017 I flew over to Malmo Sweden to take part in my third Toughest race, the second at this venue. Toughest go in big for fast, technical courses. They invest heavily in quality well tested obstacles with a lot of emphasis on upper body strength but comparatively less running that your standard OCR. At 8Km there are 40 obstacles. But thats not all. At many of the obstacles there is a fast lane which is a harder version of the standard obstacle. Examples include flying monkey bars involving "flying" between the bars. Complete that and you get to skip the crawling sections. Fail them and it is a penalty run!
GoPro Vid
Firstly if you've not seen it, watch our race for yourself with our go pro footage :D:
The Elite Wave
This race does a great deal to "big up" the elites. You cant just enter the elite wave. You have to qualify for it assuming you can complete 4 races in a season. Even there there are only 40 male and 40 female spots up for grabs. So how do you qualify?? Oh thats easy. After the elite wave starts, the qualifier waves begin. As long as you can do the following you can apply.
Top 50 position in a Toughest race
10K men: sub 39min / 10K women: sub 45min<
Simples!
In reality though this is a fantastic event. I was joined by Gareth from Obstafit and the other Muddy Dentist, Adam. Decked in our Obstafit greens we made an imposing sight! Ok, not so much a sea as a puddle of green. But we were keen!
Great Atmosphere At The Race Village!
Registration was one of the easiest I have done. It took a minute at most. Even when my British accent confused the poor girl and she got me someone else race pack!
The one thing I noticed about Malmo is everyone looked fit! I did feel like the out of shape guy everyone wanted to finish ahead of. I needn't have worried as once the race had started the usual traits of OCR were in abundance. Encouragement, assisting your fellow runner and general positivity were plentiful.
A powerful sound system pumps out loud uplifting music. Combined to the enthusiasm of the two guys introducing the runners makes for a great atmosphere.
New Obstacles
When the race starts we tend to set off at a nice steady pace. Unlike a lot of UK races this is a very flat run with a max elevation of around 10M. The obstacles are designed to mostly tire your upper body out it would seem. Successive traverse type events soon leave your shoulders sagging which is only worsened by the short by effective carries.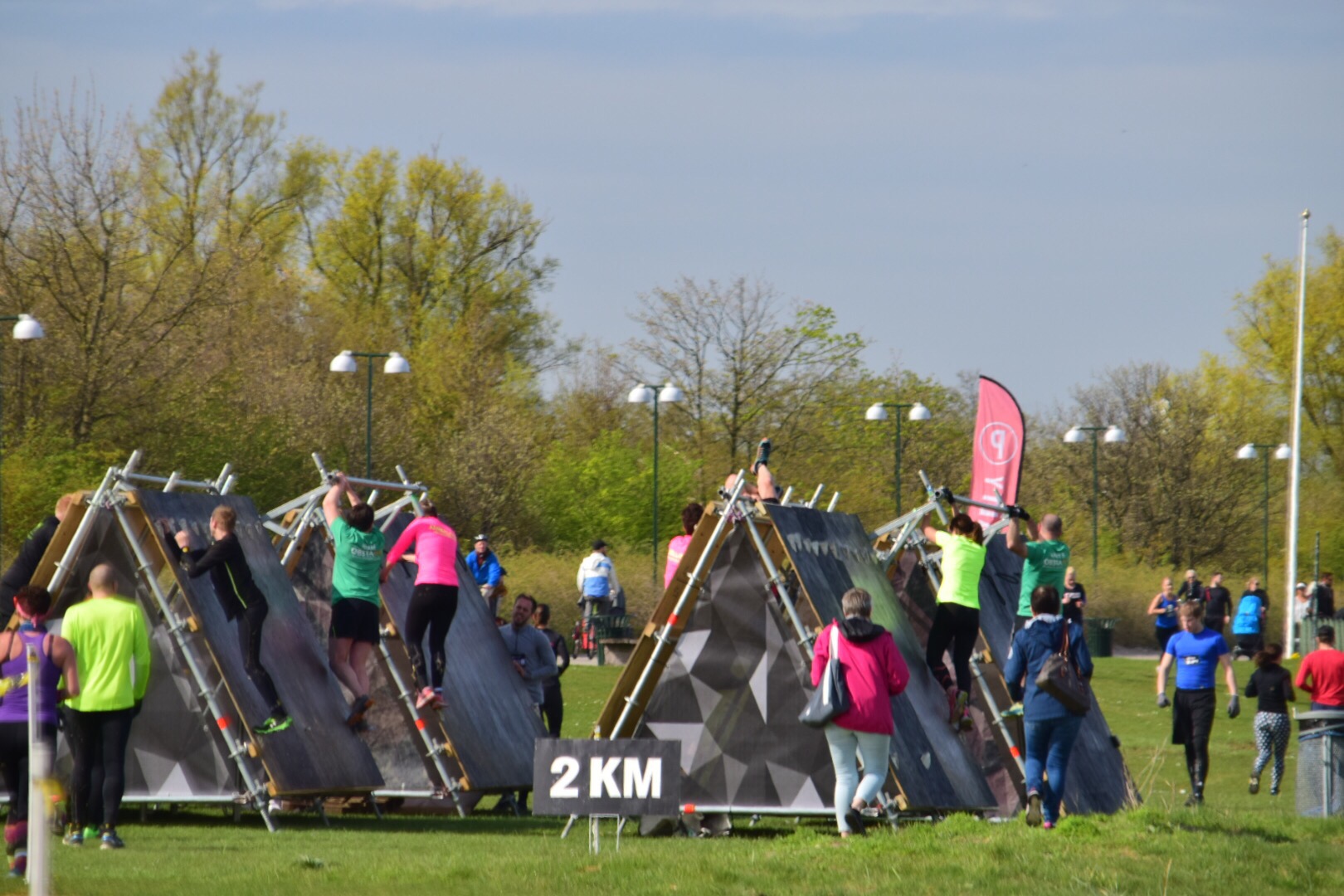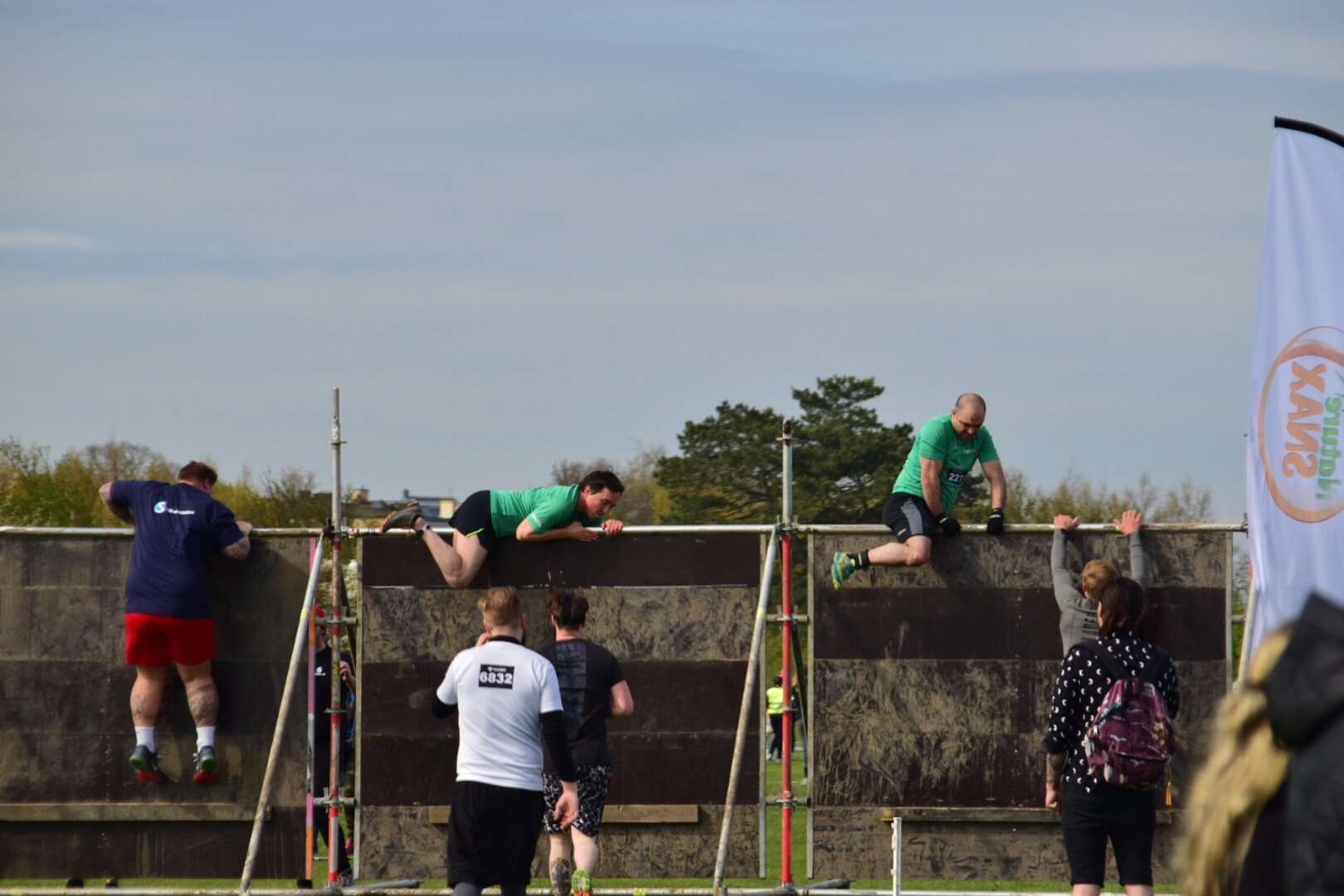 Compared to last year there were a few new obstacles. My particular favourite doesn't appear to have a name. It is basically a pole that you slide down whilst hanging from inverted bicycle handlebars. To complicate matters it has wedges you need to "jump" over. Having never previously been able to generate any lift from my suspended torso I was quite surprised to make it down in one piece.
Beach Running
The second half of the race takes you out to the sand. This added an interesting level of tired as anyone who has tried running on a beach can testify!! Having been suitably fatigued by the hangs pulls and jumps we arrive at my nemesis. Rings. Swing from one side to the other. Gareth demonstrated with ease why he is the coach not the student. Waltzing across without breaking a sweat, I had a lot to live up to. I did make it almost to the end but Tom Daly would have been proud of my dismount/dive. The marshall then pointing to a penalty run!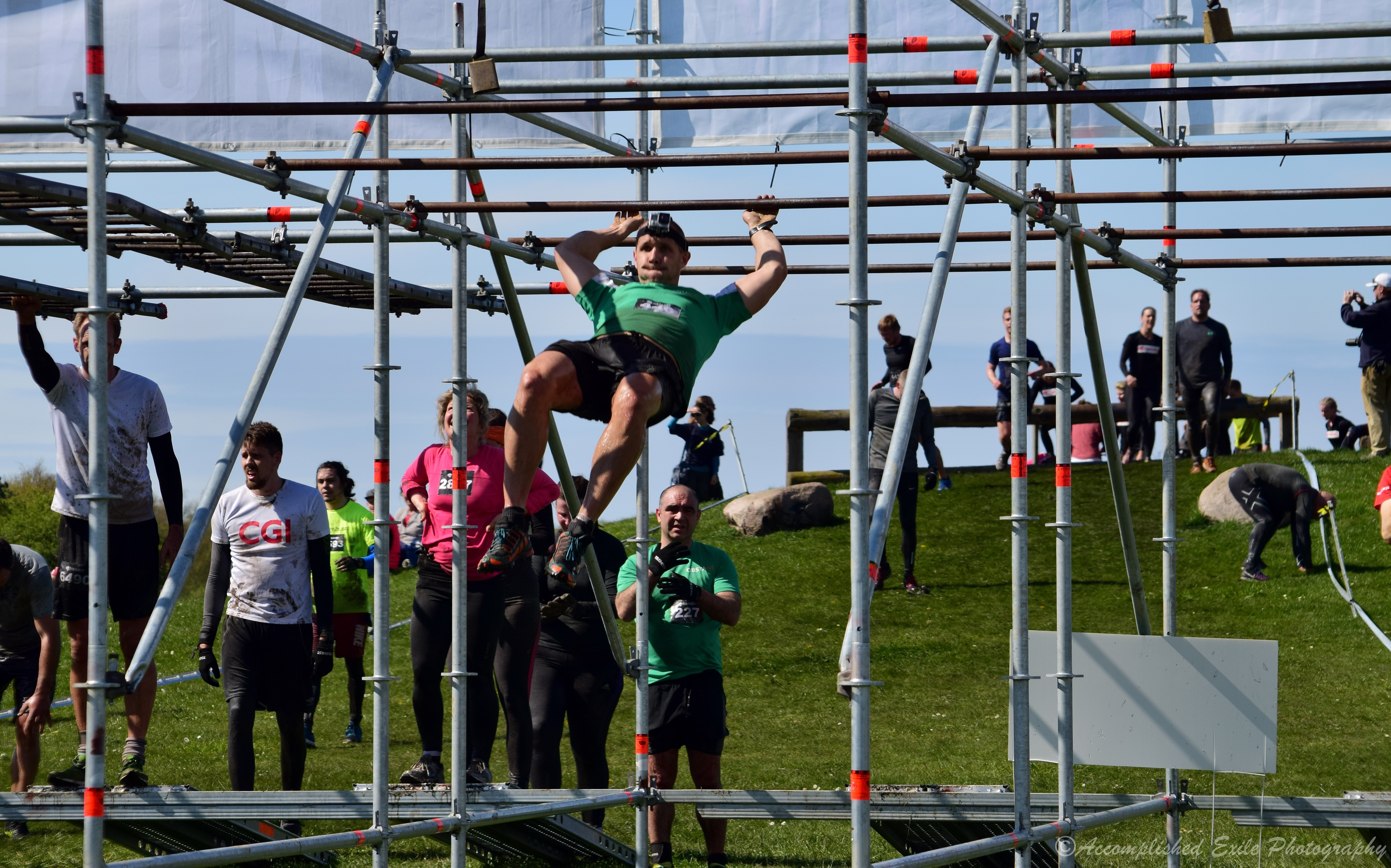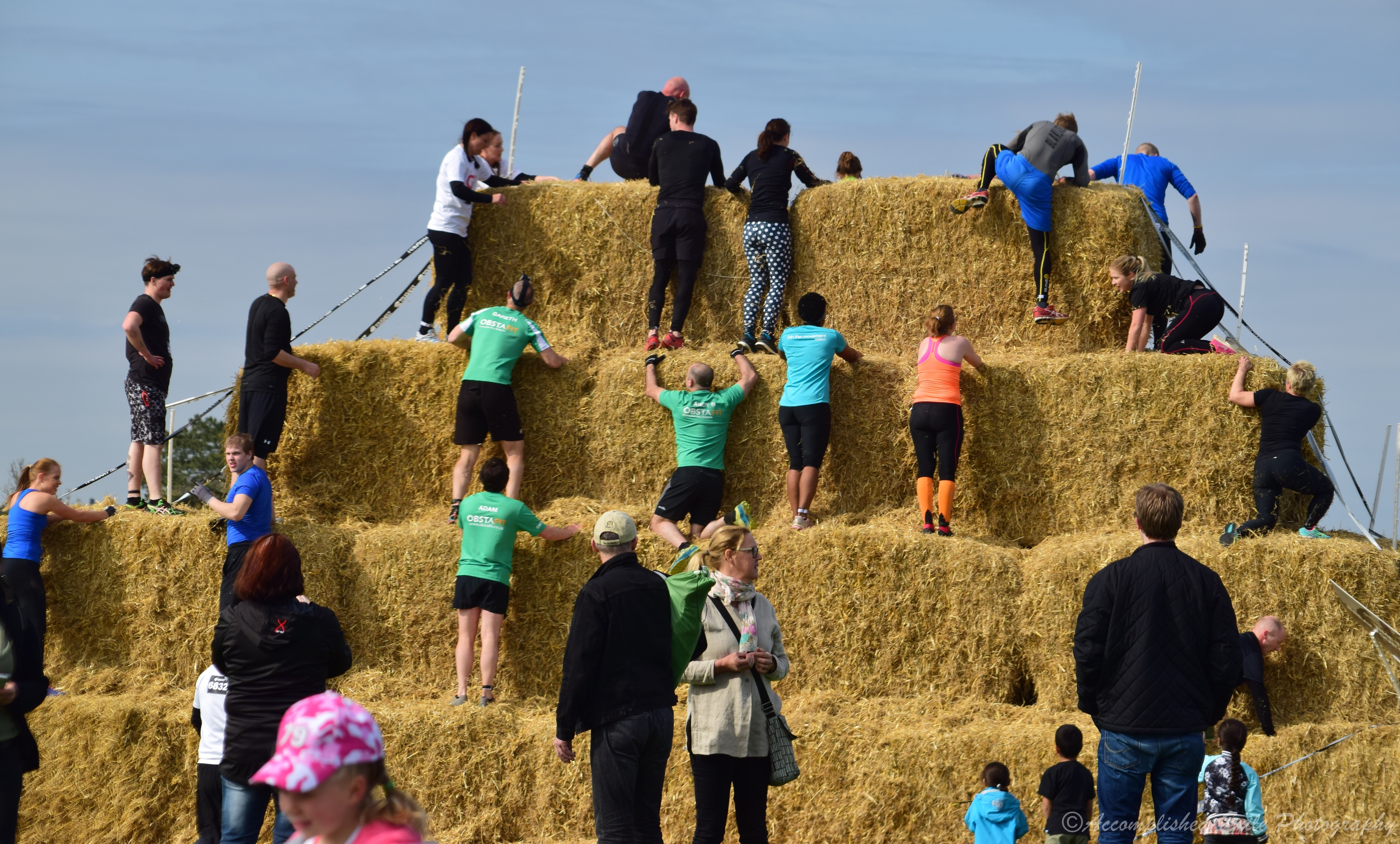 Monkey Bars/Flying Monkey
Monkey bars followed soon after. These would normally be my strongpoint but I could feel the tiredness in me. I got across but not a moment too soon!!!
As we begin the approach back to the event village the crowds really start to thicken and it is a fantastic feeling seeing all these supporters cheering you along. Having done a couple of large road races, it may be something you take for granted on a half marathon. Most OCRs however are on a random farm in the middle of no where! You don't really get crowds.
Platinum Rig/Dragons Back
Two of toughests signature obstacles came in quick succession. The platinum rig is a hell of a contraption and one I am yet to complete. Monkey bar, transitioning to ring swings transitioning to a rope traverse – and thats the easy lane. Make sure you ring the bell at the end or you fail!! What an amazing test but Gareth again sailing through holding up the team dignity!!
My personal Toughest favourite is the Dragons back. 5 platforms spaced about 2 M apart and 2.5M high. The photo doesn't do it justice. It is a hell of a mental challenge to throw yourself from one ramp to the next. I am happy to say I am yet to fail it!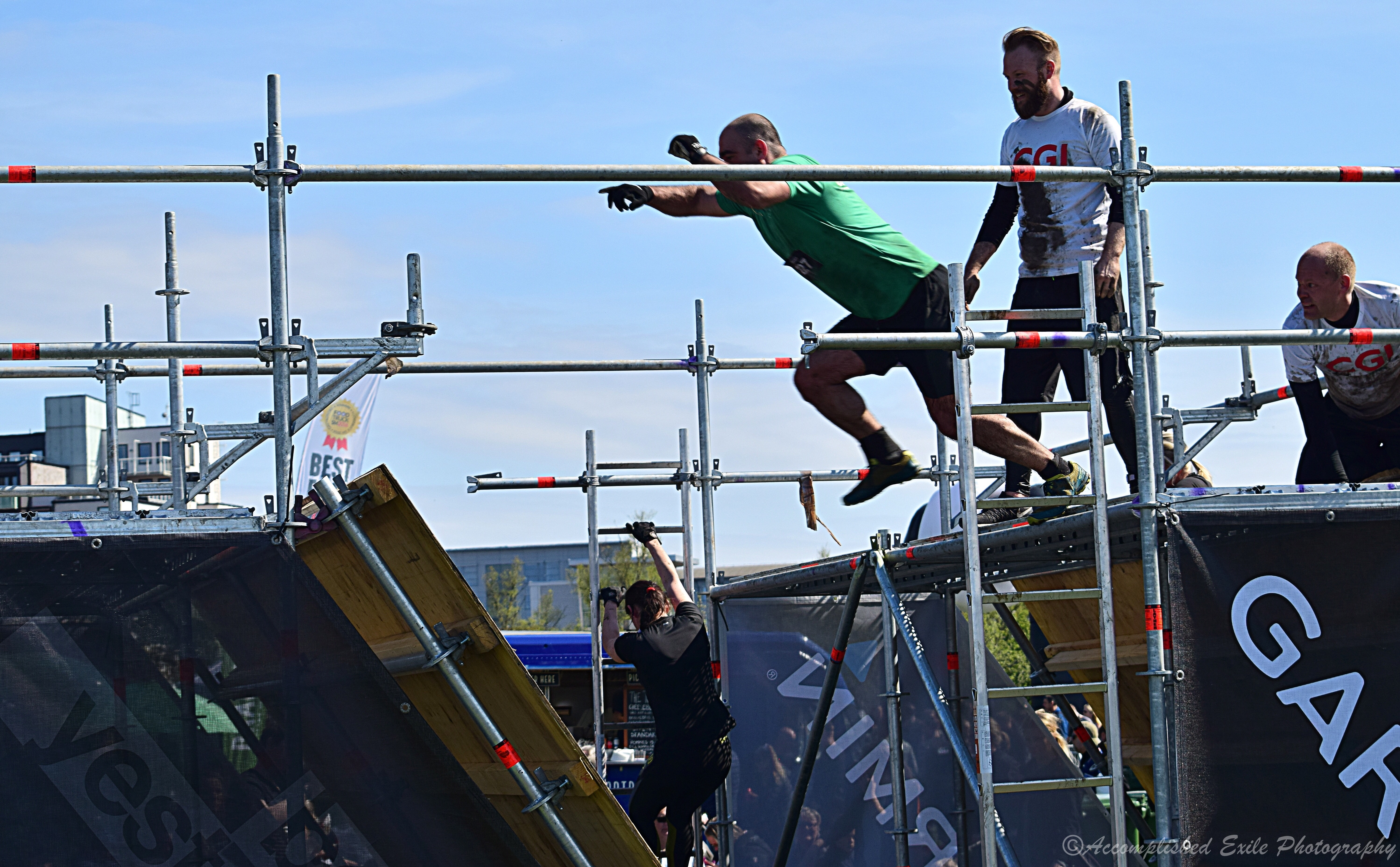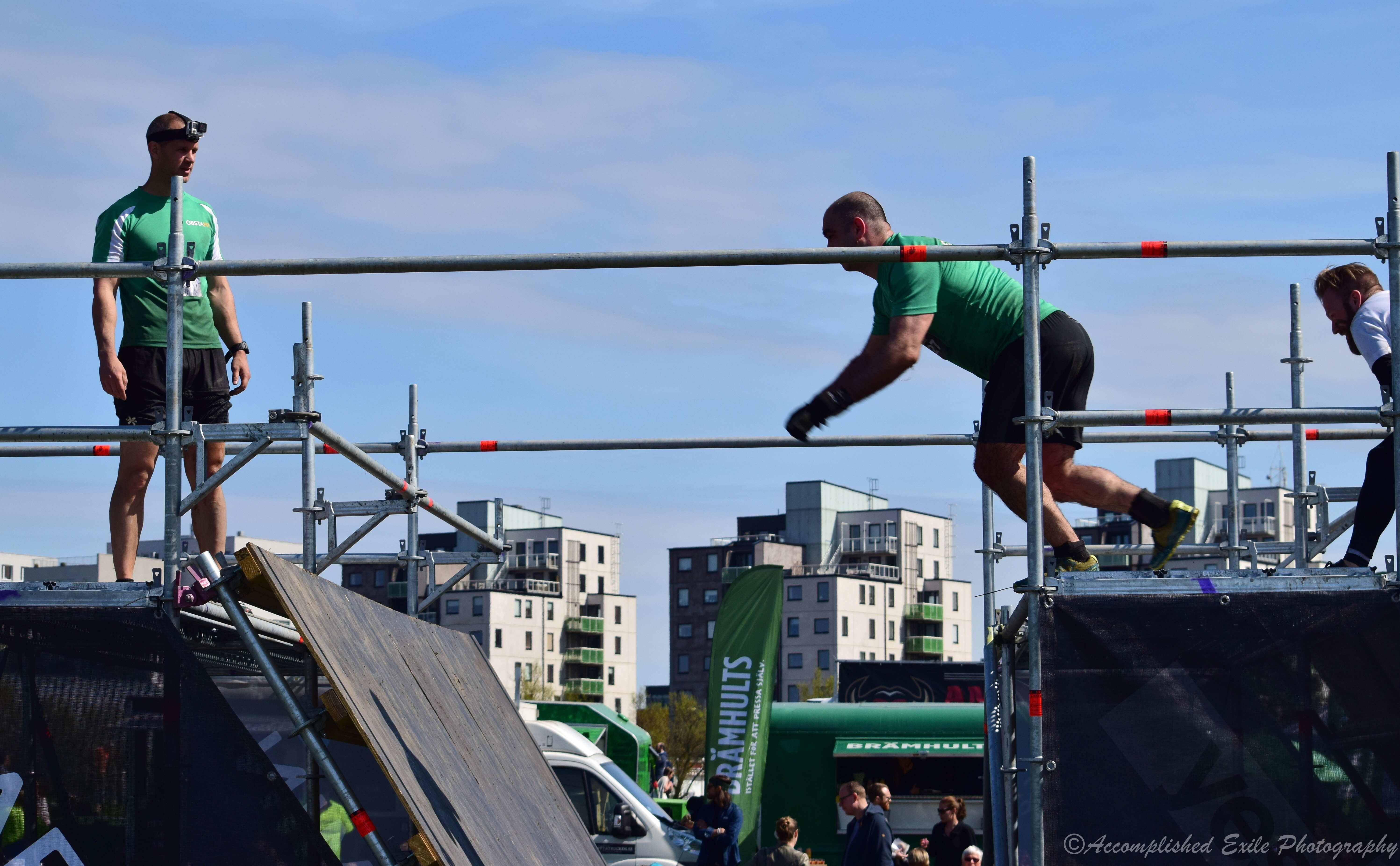 Super Slide!
As you may expect for 40 obstacle, there are a lot more than I have mentioned but I am just trying to cover the highlights for me. As with all standard races we have walls, rope climbs (although you can do a ninja warrior salmon ladder instead!) and the like. Not many races have a slide as fun as the toughest one though. Vertical drop which flicks you out at the end in to a water sports lake! Exhilarating! It also nicely cools you off and gives you a wash!
As the race drew to a close our little puddle of green had one more challenge. The 4.5M finishing ramp. Prepared with last minute coaching from Gareth – keep running don't jump I attacked the run way and like a seasoned olympian I reached up and gracefully pulled myself on to the top. Ok it was less like that and more akin to a beached whale trying to shuffle but at least I made it. I wont go too much in to how the other 2 got on at their first attempts, except to say they needed my own words of advice! ;).
Grandstand Finish
The finish line of this race is unlike any other I have done. A grandstand sits alongside the ramp and crowds aplenty mingle to encourage the tired runners. The atmosphere is literally buzzing with loud music and cheering. You can not help to have a grin on your face. The Swedes really do know how to put on an event like this.
Easy registration, great location, well built obstacles on a fast stunning course. This is for me the best race I have taken part in and would highly recommend doing at least one toughest race. If you only CAN do one – do their home event in Malmo.
Sunday for Kids
Now I don't have kids, but if I did, their Sunday offering is a great incentive to make a weekend of it when they put on the family race allowing parents to run a smaller course with their children. It was again a popular event. The kids seemed to relish the chance to run the course!
All in all we had a fantastic weekend of good company and racing. OCR has yet again opened up new experiences and opportunities I would never expect to have had otherwise.
I am NOT quick. Jonathan Albon win this race in 27 minutes. It took me 1hr 57. I failed on most of the later obstacles because I was fatigued. I still cant get off the monkey bars on platinum rig. But none of that matters because it was for me, obstacle racing at its best.