Keto Diet Experiment – Final Week 6
My intention for Week 6 of my Keto Diet Experiment was to slowly start reintroducing carbs in prep for the big carb up at the Smoke Haus on the weekend. I had a slight paranoia that I might end up in a carb induced coma or something if I didn't introduce them slowly…
Well, that didn't happen. I just kinda decided I may as well do it properly and stick it out right to the end, but not go all guns blazing on Saturday at the Smoke Haus. So that's what I did!
So after 6 weeks of lots of fat and little carbs, here are the final figures 😀
Weight 81.3kg (Week 1 84.5kg)
Bang on the same weight as last week. Not bad considering last weeks increase in calories to 2500. I think I've found the sweet spot. I don't want to lose more weight to be honest. All in all, a whopping 3.2kg weight loss in just 6 weeks
Body fat – 15.4% (Week 1 18.76%)
This was the biggest shocker for me – I was expecting maybe a single percent drop, but not 3.4%! Now I know why none of my clothes fit me any longer and why I had to go out and buy some size 30″ waist jeans on the weekend!
Photo's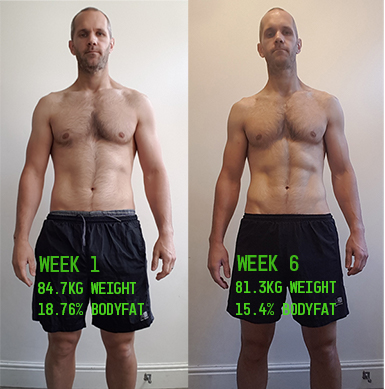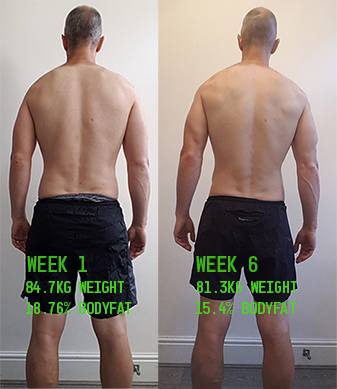 I know I keep saying it but I'm quite shocked at the results at the end of this experiment, in particular, the body fat drop.
I think it shows in the pictures, particularly in the back and side shots. Ok, it's not a massive transformation, and there aint no rippling 6 pack on show. But in 6 weeks I am surprised at the speedy progress.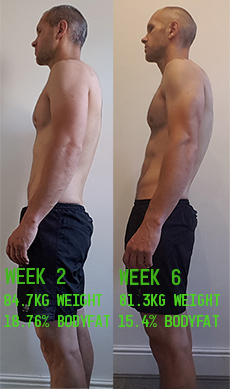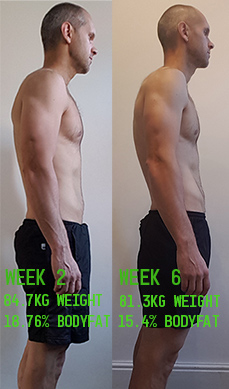 My abs are also beginning to make an appearance, which is great as they've been in hiding for a while 😀

I think I'd need to drop another few % body fat however until I see a 6 pack of any sort! Again another reason to keep going and find out 😀

Blood Tests
When I originally spoke to the doctor I explained my situation and my 6-week experiment. I also explained that I would like to check my bloods, mainly cholesterol levels. She also suggested checking liver function and some sort of diabetes test.
The results of the original test were very good. I've not seen the printout but I will have it soon. The doctor mentioned a cholesterol level of 5.7 (what is the 5.7??) but a high HDL count vs low LDL count. That's basically great as it means I've got a lot more 'good cholesterol' than 'bad cholesterol'.
That test I did just at the beginning of Week 1. In the weeks running up to the experiment, I had been testing out some High Fat Low Carb recipes so that might explain my good cholesterol levels.
What I didn't realise was that I am unable to retest again until 3 months have passed. Apparently, the diabetes test cannot be repeated until this duration has passed. So my original plan to check bloods after 6 weeks has gone to pot. However, that's a pretty good excuse for me to carry on at least until the 3 months is up right?
Training – Strength Workout A
Full Body Strength Workout A was a success this week. As per the pattern for most weeks, I increased the resistance on most exercises. I also found an awesome new abs finisher which resulted in ab DOMS for the first time in a long time! I'll be sticking to this one.
Comparing Week 1 to Week 6 there's a big difference.  At week 4 I added a 5kg weighted vest, increased that to 7kg for the whole workout. I also increased the size of the kettlebells plus the number of reps on most of the exercises showing quite a considerable increase in strength.
I'm most chuffed with the improvement on the monkey bars, managing to get up to a total of 5 lengths (with pull ups in between) plus a 7kg vest. My grip strength has gone through the roof!
I managed to film this workout last week. Will be uploading it next week at some point!
Training Strength Workout B
The most progress has been made over the weeks from doing my favourite workout Full Body Strength Workout B. I just love doing pull ups, press ups and dips as you've probably guessed 😀
Looking at the results I added an extra 7kg to my pull-ups and increased reps on each set to 8 reps from 6, Similar progress made in dips. Farmers walk and Lunges saw a big increase in performance. I worked up to a 30kg sandbag plus 7kg weighted vest for the walking lunge and added extra lengths. Also added extra lengths to the farmer's walk and included the weighted vest.
Lastly, the finisher workout definitely became less fatiguing as time passed. I definitely think the explosive stuff would benefit from a small injection of carbs pre-workout though!
Training – Running
This week has been a good week for running. I was a bit apprehensive about doing a pace run (running for a set distance at the race target pace). Reason being, I've struggled since being on Keto to get up to the pace needed to do a sub 90 half in October (4:10 k/m). So when I looked at my plan and realised I had a 3 mile pace run to do I wasn't sure how it was going to go.
It went pretty well considering! I split the run into 3 single mile repeats with a minute rest in between. It was an absolute killer but managed to get down to quickest pace of 4:03 k/m, averaging 4:15 for the entire run (see it on Strava).
So 11 weeks out from the race that's not bad going, I might just stand a chance.
OBSTAFIT RunClub has helped a lot with improving my running each week too. Nothing beats running with a bunch of equally motivated people!
Anaerobic Threshold Running on Keto
Of all my workouts I've noticed the biggest difference in my running since doing Keto. Firstly, for easy long endurance runs I have felt energised throughout, no loss of energy whatsoever. That makes sense because during easy runs the body looks to fat primarily as a fuel source. However, when upping the pace and entering anaerobic threshold zone, when the body needs energy quickly, things start to deteriorate pretty quickly.
I can't really guarantee though that this is due to Keto because I have only started properly training for Speed and for the Cardiff Half Marathon whilst during my experiment. So Keto might just be a red herring here, it could just be my running fitness! Also to test this properly I think I would need to check my running over several months, even up to a year. I know it can take that long to fully adapt.
I have noticed my speed has increased and the point at which I hit my Anaerobic Threshold is increasing. So perhaps I just need to give it more time!
Nutrition
This week was no different to any other in that I stuck to Keto right throughout the week (Until the end of the experiment on Saturday when we had the Gauntlet Games Race and our social in the night).
I Will cover my weekend carb up and the aftermath in my next post.
Here is my diary for Thursday 20th. If you are wondering what ketoproof coffee is. It's basically 2 tbsp butter, 2 tbsp [amazon_textlink asin='B00KPZXER6′ text='MCT oil' template='ProductLink' store='obstafit-21′ marketplace='UK' link_id='72071a1b-7244-11e7-9e3d-97453b8fe3d0′], 1 scoop [amazon_textlink asin='B00CHJ45FI' text='Chocolate Impact Whey,' template='ProductLink' store='obstafit-21′ marketplace='UK' link_id='8a64e555-7244-11e7-814c-cbe71a1fec33′] 2 tbsp cream all blended up with my regular morning ground coffee ([amazon_textlink asin='B007M8EQ6M' text='Taylors Hot Lava Java' template='ProductLink' store='obstafit-21′ marketplace='UK' link_id='59a18734-7244-11e7-bb72-a7b8e8a631d4′])
Don't knock it till you've tried it. It tastes like a mocha and is a perfect quick blend of fat for Keto!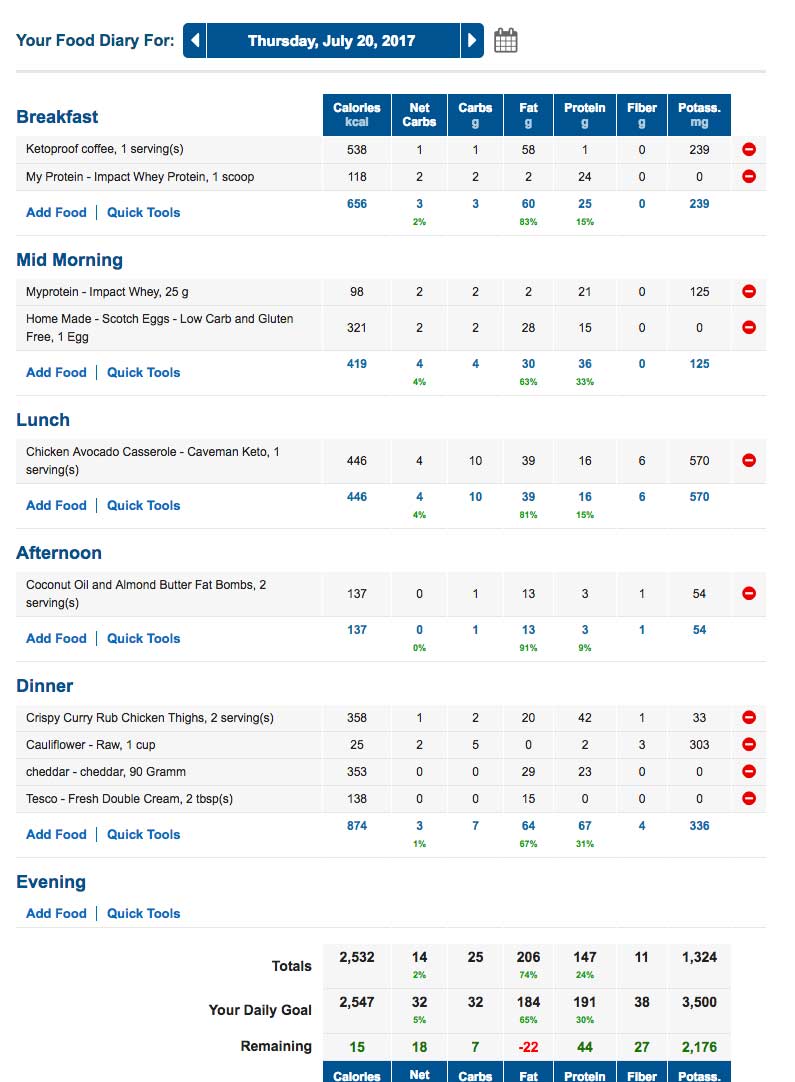 The scotch eggs that I cooked up the week before went down a treat this week!
I also made a Chicken Avocado Casserole using the excellent recipe from cavemanketo.com. This is almost as good as my favourite Chicken Buffalo Casserole.
Final Words & What Happens Next!
This is most definitely not the end. Having reaped the benefits of a Ketogenic Diet for the last 6 weeks it just makes no sense to me to go back to my usual high carb diet. I'm still undecided exactly what I am going to do. All I know is, for the time being Keto is staying.
However I'm thinking of adding some fast acting carbs (probably Dextrose) combined with coffee and MCT Oil before my speed running sessions, particularly in the run up to the Cardiff Half Marathon as I have to reach my Sub 90 Goal!
I'm going to monitor my reaction to increased carbs over the next few weeks, adding some slowly back in on a single day of the weekend most likely. I'd like to find out at which point my body gets kicked out of Ketosis. Up to now and most days i've been keeping carbs very low usually between 20-30grams.
Increase my daily carb limit?
Will I be able to increase to 50g a day? Perhaps More? How long will it take me to get back into Ketosis after indulging on Carbs for my birthday this weekend?
I am yet to find out. All I know is – this weekend, i'm eating cheesecake!!
This blog will remain active, I will update you all on the aftermath of this weekend and my plans going forward. I also plan to re take my bloods, bodyfat, weight and photo's in just under 2 months time!
As always I love hearing feedback from you guys. Has anyone else tried a Ketogenic Diet? How did it go for you? Are you tempted to try but want to ask some questions? Go ahead and ask away in the comments, I usually reply quickly..
This is the final post in a 6 week series. Feel free to go back and read the others if you haven't so far, starting with Gareth's Keto Diet Experiment