Keto Diet Experiment Week 5 – Post Butlins!
On Monday morning of Keto Diet Experiment Week 5, I did my usual [amazon_textlink asin='B001V9T0MS' text='Keto-Diastix' template='ProductLink' store='obstafit-21′ marketplace='UK' link_id='efb60052-6bee-11e7-be5f-33391940c7be'] checking routine and was surprised to notice that the sticks were now showing no trace of Ketones. WTF! Did I get kicked out of Ketosis? Or am I now fully adapted to Keto, therefore excreting fewer Ketones?…
The following day answered that question for me. Back into the deep pink colour on the Keto Diastix, so it is possible that I consumed too many carbs on the weekend and kicked myself out. If that did happen, then it's nice to know how quickly I can't get back into Ketosis, only one day later.
It could also be to do with the fact that I was well hydrated, therefore peeing more and therefore having fewer Ketones in my urine. I'm now seriously considering getting a proper blood testing kit and doing this properly!
I can honestly say I did not expect this much of a change in such a short period!
Weight – 81.3kg
Not as big a weight loss this week, only .2 kilos. All is going to plan, I've put my calories up to 2500 to stall weight loss as I don't want to lose much more. The plan now is to lose body fat and hold onto muscle, so I need calories!
Photo's
So again – not a huge amount of difference between this and last weeks photo's but a big difference between this week and week 1.
The side shots were missing for week 1 so I've compared to week 2 instead – but what a difference in those 3 weeks.
I can honestly say I did not expect this much of a change in such a short period!
Training Strength Workout – A
Full Body Strength Workout A just didn't happen this week. It's been a bit of a mental week both in work and in getting the fitness test ready for our OBSTAFIT VIP Members.
Training – Strength Workout B
I only managed to squeeze in one Strength Workout this week, 'Full Body Strength Workout B'.  That one session was a bit of a disaster. It seemed my strength levels had dropped significantly….

I had to drop weights on a few exercises. Could this be due to weight loss or could I be plateauing? I've been doing this workout for months now so I could be due a workout refresh.  I should also consider the fact that I'd added 2kg to my usual weighted vest. Will try it again next week and see if my results improve. It could have just been an off day, we all get them. It didn't stop me being pi$$ed off about it though!
I also want to give a shout out to all our members who absolutely smashed this fitness test
Training – Running
Running sessions went well this week, well with regards to energy levels and endurance anyway. I did 2 x 4-5 mile tempo runs, then a 7.5 mile long run on Friday at OBSTAFIT RunClub.
When I try increasing speed I'm still definitely noticing a slow down and an acceleration in fatigue. However, this could well be due to the fact that I haven't done any proper speed work for a good few months now.
The only test result I was disappointed in was the 1km Run
The reason I've introduced it is because I have the Cardiff Half Marathon Coming up, for which I'm planning to beat Sub 90 minutes. Have a read of my previous post 'Cardiff Half Marathon, Chasing a Sub 90 Half' if you want to find out how I did at the last one!
OBSTAFIT Fitness Test
On another note, I joined our VIP Members in doing our fitness test this week for the second time. My thinking is we should never make our members do something we can't do ourselves as instructors. Plus I enjoy getting involved and monitoring my progress.
This test is a particularly challenging one,  with a killer agility test at the beginning, lots of press-ups/sit-ups and a 1km sprint test at the end. So as per the last time I did this test, the agility test was a beast. You wouldn't believe how exhausting 5 x 17-18 second agility sprints can be! I took just one second off my previous agility test results but added 30 extra press-ups plus made good progress everywhere else.
The only test result I was disappointed in was the 1km Run. Reason being, in training I know I can hit less than 4 mins per km. My excuse is we did a 7.5 mile run the night before, legs like jelly 😀
I also want to give a shout out to all our members who absolutely smashed this fitness test. Every single person made a considerable improvement over the last test 3 months ago. All that training is most definitely paying off!
Nutrition
Well if you read last weeks post 'Keto Diet Experiment Week 4 – New Trousers Please!' then you'll know that I cooked some bad-ass scotch eggs for this week. They were amazing – just full of cheesy, beefy avocado tastiness. I will definitely be cooking them again.
As some of you know I do all my prep on the weekend. I usually cook up a big keto casserole and portion it to take to work the next week. In addition to that, I also cook a few pieces of salmon, plus some fat bombs of some kind to snack on and keep the calories up.
Some of you might find it useful seeing a sample day from my food diary so here it is, from My Fitness Pal. You'll notice I've gone slightly over my calorie limit here but I don't mind too much as I'm training my arse off at the moment. I need food, plenty of it!
Cereal Craving Killer – Nuts Galore
I don't always prep brekkie but all this week I had been craving cereal, that's the one thing I'm missing on Keto. So I found a recipe from Linda at thefitty.com for what she calls the 'Best Cereal In the Whole Wide World'. I'm inclined to agree with her it's a world competition beating cereal! Plus it's really simple to make, but also expensive as it's pretty much all nuts. Lots of them. Which now cost a fortune (in the UK anyway!).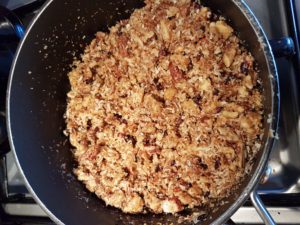 I did adapt it slightly to suit what I had in my cupboard. I used chopped walnuts, pecans and flaxseed
with a few tbsps of
Cacao Nibs (I bought mine here – Organic Raw and Natural Cacao Nibs). This cereal with some Greek yoghurt was the answer to all my prayers.
It will feature big time in my plan for next week! Calories are massive on this one due to the nuts. 987 cals! That's perfect for me as I need to keep my calories high so I'm not dropping too much weight, and so that I am maintaining muscle. You'll see in next weeks My Fitness Pal Diary that with some Greek yoghurt, strawberries, raspberries and some whey protein, this takes my brekkie up to a whopping 1244 calories!!!
Keto Coconut Chicken Curry
Something else I've missed on Keto is curry, so on the weekend I looked up a few keto friendly recipes on the net and didn't struggle to find a host of low carb curries on offer. I went for the simplest, and hopefully the tastiest.
I went for this Coconut Curry Chicken Recipe from Keto Connect. It's so easy to make and only contains a few ingredients, to mention a few: Mainly Chicken Thighs, Coconut Milk, curry powder plus a few other spices.
I've pinched the image from Keto Connect as I forgot to take a picture myself – it pretty much looked like that but paired with some Indian Spiced Cauliflower Rice (thanks to thefoodcharlatan.com for this wonderful recipe).
One big confession….
I had a beer!

Yes, I went to Cardiff Bay Food & Drink Festival and decided I would have a beer, a pint of real ale in fact. Bloody hell it tasted like heaven. A lovely classic from Tomos Watkin. Real ale is my weakness in life, though I don't drink much of it, just the odd pint every now and again!
This was kind of planned as I knew I had a social event at the end of the experiment (next weekend).I had planned to have a beer at that event, so decided not to wait until then to try a beer. Just in case things went badly wrong!
Well, the good news is, the next day I was still in Ketosis.
Plans for Next Week – The Final Week!
The last 5 weeks have absolutely flown by and I must admit, so far I've really enjoyed it. I now need to decide what to do next week. At the end of next week, we are all attending an Obstacle Race 'Gauntlet Games'. After that, we're off to Smokehaus Restaurant in Cardiff for our Summer Social.
I planned this perfectly. At Smokehaus I would have a beer and enjoy some carbs. I would celebrate the end of the experiment, the race and also my birthday! What I don't want though is to experience the headaches and sugar crash that many do after a long period on a low carb diet when reintroduced.
Carb Cycling?
So I may start introducing carbs slowly next week so that It's not too much of a shock on Saturday! Or I may just stick to Keto all week.
Long term,  I cannot go back to the way I used to eat given the benefits I've experienced. What I may do is a Targeted Keto Diet (TKD); in other words, having carbs only before/after workouts.
So, for my speed work when running when I have felt some decline; I think some carbs before & after these workouts will help no end. More on that next week though in my closing thoughts as I'm still undecided!